Arabiyat : Jurnal Pendidikan Bahasa Arab dan Kebahasaaraban published twice a year since 2014 (June and December), is a multilingual (Bahasa, Arabic, and English), peer-reviewed journal, and specializes in Arabic Education and Arabic Studies. This journal is published by the Arabic Education Department, Faculty of Education and Teachers Training, Syarif Hidayatullah State Islamic University of Jakarta, in partnership with IMLA Indonesia (Association of Arabic Lecturers). Click Here to Download MoU.
Editors welcome scholars, researchers and practitioners of Arabic Education around the world to submit scholarly articles to be published through this journal. All articles will be reviewed by experts before accepted for publication. Each author is solely responsible for the content of published articles.
Arabiyat is accredited by Ministry of Research, Technology, and Higher Education Republic of Indonesia No. 51/E/KPT/2017 on December 4, 2017 (Amendment of No. 48a/KPT/2017 on October 30, 2017) (Valid until October 30, 2022). Arabiyat has become a CrossRef Member since year 2015. Therefore, all articles published by Arabiyat will have unique DOI number.

Click Here for Submitting Manuscript Tutorial
P-ISSN: 2356-153X
E-ISSN: 2442-9473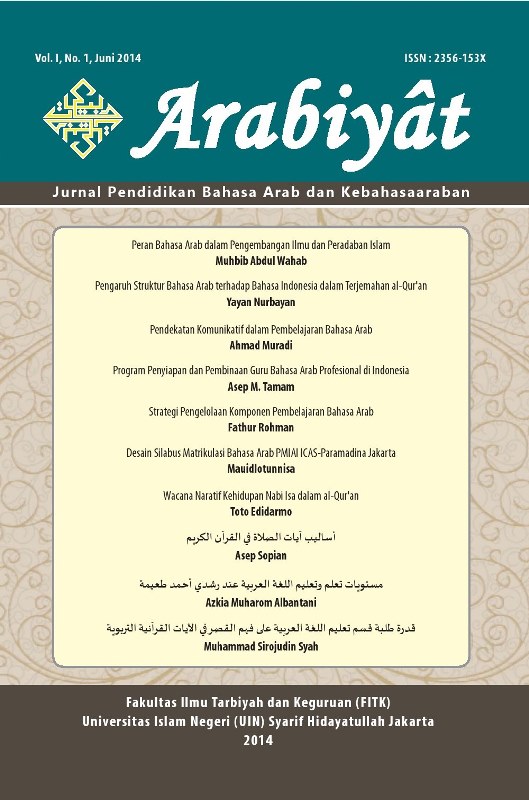 AUTHOR GUIDELINE
Author Guideline is available for download here
Arabiyat TEMPLATE is available for download here
Article Sample is available for download here
It is suggested the use of a reference manager, MENDELEY and ZOTERO
Announcements
ASEAN Citation Index

Arabiyat : Jurnal Pendidikan Bahasa Arab dan Kebahasaaraban accepted to be indexed by ASEAN Citation Index
Posted: 2017-11-22

Call for Papers

Arabiyat is calling papers for the issue of Vol. 4, No. 2, December 2017. If you have unpublished manuscripts that might fit within our subject areas, please consider submitting to the journal.
Posted: 2015-03-04
Arabiyat : Jurnal Pendidikan Bahasa Arab dan Kebahasaaraban | Vol. 9 No. 1 June 2022
Table of Contents
Articles
| | | |
| --- | --- | --- |
| | Toto Edidarmo, Zainal Muttaqin | 1-15 |
| | | |
| --- | --- | --- |
| | Ahmad Nurcholis, Muhamad Asngad Rudisunhaji, Timbul Timbul, Heri Efendi, Siti Marpuah | 16-29 |
| | | |
| --- | --- | --- |
| | Hikmah Maulani, Maman Abdurrahman, Nalahuddin Saleh, Ahmad Faqih, Faiz Dzul Fahmi Hamdan | 30-43 |
| | | |
| --- | --- | --- |
| | Aulia Mustika Ilmiani, Mukhtar I Miolo, Hunainah Hunainah, Ahmad Maghfurin | 44-55 |
| | | |
| --- | --- | --- |
| | Mahyudin Ritonga, Sobhan Sobhan, Bambang Bambang, Safi Khadidja | 56-68 |
| | | |
| --- | --- | --- |
| | Nurul Aini Choiriyah, M Yunus Anis, Syed Nurulakla bin Syed Abdullah, Nor Azuwan Yaakob | 69-84 |
| | | |
| --- | --- | --- |
| | Anwar Sanusi, Mahfuz Rizqi Mubarak, Abdulkhaleq Al-Rawafi | 85-96 |
| | | |
| --- | --- | --- |
| | Tulus Musthofa, Nafisatun Nisa, Abd Rauf Hassan | 97-110 |
| | | |
| --- | --- | --- |
| | Lina Marlina, Khalid Khamis Farraj, Maryam Jamilah Zahra | 111-123 |
| | | |
| --- | --- | --- |
| | Ahmad Hidayatullah Zarkasyi, Gita Hanina, Siti Anne Barkah Nur Fauziah | 124-136 |