Arabiyat : Jurnal Pendidikan Bahasa Arab dan Kebahasaaraban published twice a year since 2014 (June and December), is a multilingual (Bahasa, Arabic, and English), peer-reviewed journal, and specializes in Arabic Education and Arabic Studies. This journal is published by the Syarif Hidayatullah State Islamic University of Jakarta, in partnership with IMLA Indonesia (Association of Arabic Lecturers). Click Here to Download MoU.
Editors welcome scholars, researchers and practitioners of Arabic Education around the world to submit scholarly articles to be published through this journal. All articles will be reviewed by experts before accepted for publication. Each author is solely responsible for the content of published articles.
Arabiyat is accredited by Ministry of Education, Culture, Research, and Technology, Republic of Indonesia No. 105/E/KPT/2022 on April 2022 (Valid until 2026). Arabiyat has become a CrossRef Member since year 2015. Therefore, all articles published by Arabiyat will have unique DOI number.

Click Here for Submitting Manuscript Tutorial
P-ISSN: 2356-153X
E-ISSN: 2442-9473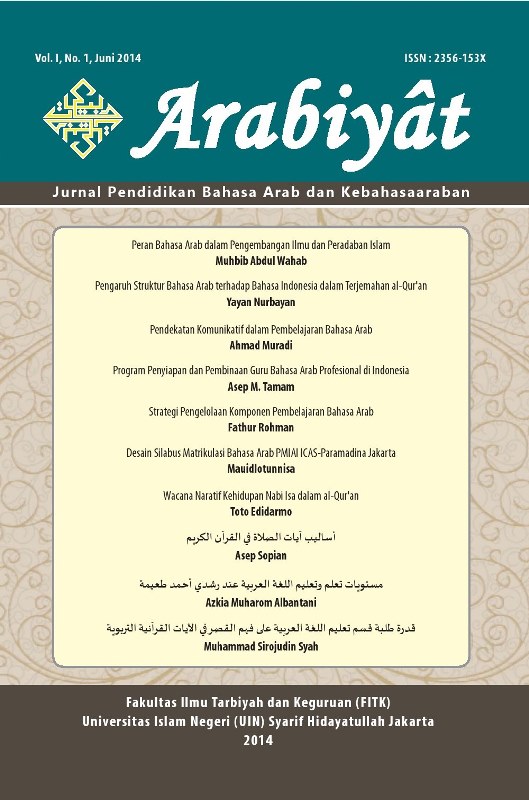 AUTHOR GUIDELINE
Author Guideline is available for download here
Arabiyat TEMPLATE is available for download here
Article Sample is available for download here
It is suggested the use of a reference manager, MENDELEY and ZOTERO
Announcements
ASEAN Citation Index

Arabiyat : Jurnal Pendidikan Bahasa Arab dan Kebahasaaraban accepted to be indexed by ASEAN Citation Index
Posted: 2017-11-22

Call for Papers

Arabiyat is calling papers for the issue of Vol. 4, No. 2, December 2017. If you have unpublished manuscripts that might fit within our subject areas, please consider submitting to the journal.
Posted: 2015-03-04
Arabiyat : Jurnal Pendidikan Bahasa Arab dan Kebahasaaraban | Vol. 10 No. 1 June 2023
Geographical coverage: Algeria, Saudi Arabia, and Indonesia
Table of Contents
Articles
| | | |
| --- | --- | --- |
| | Neli Putri, Suci Ramadhanti Febriani, Dela Mustika, Ulfa Yassirli, Kddour Guettaoi Bedra | 1-14 |
| | | |
| --- | --- | --- |
| | Maswani Maswani, Muhbib Abdul Wahab, Achmad Fudhaili | 15-35 |
| | | |
| --- | --- | --- |
| | Nurul Wahdah, Hamidah Hamidah, Mahfuz Rizqi Mubarak, Lukman Nurtianto | 36-49 |
| | | |
| --- | --- | --- |
| | Syamsul Arifin, Mauidlotun Nisa, Darsita Suparno | 50-62 |
| | | |
| --- | --- | --- |
| | Shofa Musthofa Khalid, Hikmah Maulani, Nalahuddin Saleh, Muhammad Faris Imaduddin, Eneng Komariyah Maimun RNM, Ijlal Haziel Taufik | 63-75 |
| | | |
| --- | --- | --- |
| | Zikri Neni Iska, Kaula Fahmi, Ilham Maulana Amyn, Siti Ummi Masruroh | 76-87 |
| | | |
| --- | --- | --- |
| | Khambali Khambali, Imam Asrori, Abdul Wahab Rosyidi, Nurhasanah Nurhasanah | 88-105 |
| | | |
| --- | --- | --- |
| | Zaki Ghufron, Endang Saeful Anwar, Azizah Alawiyah, Mufrodi Mufrodi | 106-120 |
| | | |
| --- | --- | --- |
| | Zamzam Nurhuda, M. Wildan Wildan, Yasir Mubarok | 121-135 |
| | | |
| --- | --- | --- |
| | Ma'rifah Munjiah, Kisno Umbar, Sinta Nuriyah SR | 136-148 |