TARBIYA: Journal of Education in Muslim Society is a peer-reviewed journal on education in the Muslim world. This journal is published by the Faculty of Educational Sciences, UIN (State Islamic University) Syarif Hidayatullah Jakarta, in partnership with HSPAI  (Scholars of Islamic Education), an affiliate of ISPI( Association of Indonesian Scholars of Education) and PSPII (Perkumpulan Sarjana Pendidikan Islam Indonesia) . Editors welcome scholars, researchers and practitioners of education around the world to submit scholarly articles to be published in this journal. All articles will be reviewed by experts before accepted for publication. Each author is solely responsible for the content of published articles.
TARBIYA has become a CrossRef Member since the year 2015. Therefore, all articles published by TARBIYA will have unique DOI number.
TARBIYA  is accredited  Sinta 2, by the Ministry of Education, Research and Technology. No. 105/E/KPT/2022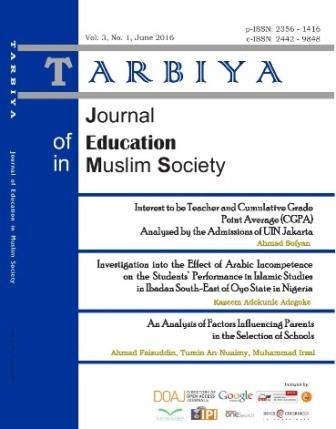 Announcements
CALL FOR PAPER

Dear Author/ Researcher/ Professor

Editorial

Board members 

invite

scholarly research paper, review paper, and case studies  for publication in TARBIYA Journal. Manuscript for publication in the International Journal are selected through a double blind peer review to ensure originality, timeliness, relevance and readability.
Posted: 2015-03-11
More...
TARBIYA: JOURNAL OF EDUCATION IN MUSLIM SOCIETY | VOL. 9 NO. 2 2022
Table of Contents
Articles
| | | |
| --- | --- | --- |
| | Ahmad Jamil, Naswan Abdo Khaled, Harun al Rasyid | 123-134 |
| | | |
| --- | --- | --- |
| | Ramdani Miftah, Lia Kurniawati, Tatang Herman, Dadang Juandi, Aya Shofia Maulida | 135-148 |
| | | |
| --- | --- | --- |
| | Atik Yuliyani, Dadi Darmadi, sadawi sadawi, M. Hafid, Asmui Asmui | 163-174 |
| | | |
| --- | --- | --- |
| | Meli Aulia Utami, Siti Nurul Azkiyah, Muhammad Farkhan | 175-189 |
| | | |
| --- | --- | --- |
| | Cecep Maman Hermawan, Okta Rosfiani, Shahid Abrar-ul-Hassan, Tanti Sri Kuswiyanti, Mahmudin Sudin, Siti Roswati | 190-197 |
| | | |
| --- | --- | --- |
| | Khalifaturrahmah Khalifaturrahmah, Akhmad Maki, Sulaiman Sulaiman, Norsyam Amaly, Bidin Bidin, Rus'ansyah Rus'ansyah | 198-210 |