Journal of Chemistry VALENSI is a peer-reviewed journal published by Chemistry Department, Faculty of Science and Technology UIN Syarif Hidayatullah Jakarta. This journal covers all aspects of chemistry including analytical chemistry, physical chemistry, organic chemistry, inorganic chemistry, biochemistry, natural product chemistry, computational chemistry and other fields related to chemistry. Journal Kimia Valensi is published bilingual (in Bahasa Indonesia or English) with publishing frequency of 2 editions per year (May and November). This journal was first published in September 2007 under the name VALeNSI No ISSN: 1978-8193. In May 2015 the journal changed its name to JURNAL KIMIA VALENSI with a new ISSN No. 2460-6065 and is available online from Volume 1 No. 1 November 2007 with e-ISSN: 2548-3013.

Journal of Chemistry VALENSI has been accredited through Decree of Director General of Research and Development (KEMENRISTEKDIKTI), Ministry of Research, Technology and Higher Education Republic of Indonesia Number 51 / E / KPT / 2017, and has been indexed in DOAJ, SINTA2, Google Scholar, IPI, EBSCO, Crossref and MORAREF.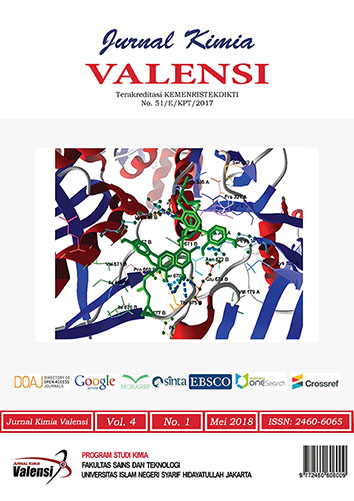 Jurnal Kimia Valensi invites all researchers who interested to publish your scholarly papers regarding of Organic/Inorganic Chemistry, Analytical Chemistry, Physical Chemistry, Applied Chemistry that scheduled to publish online for November, Vol. 4 No. 2, 2018. For further information please read this AUTHOR GUIDELINES
For the authors who will send the manuscript, see the following script MANUSCRIPT TEMPLATE
Announcements
No announcements have been published.
Jurnal Kimia VALENSI Volume 4, No. 1, Mei 2018
Available online 2018
Jurnal Penelitian dan Pengembangan Ilmu Kimia
Table of Contents
| | | |
| --- | --- | --- |
| | Murtihapsari Murtihapsari, Amir M Suruwaky, Kadarusman Kadarusman, Dikdik Kurnia, Tati Herlina, Unang Supratman | 1-6 |
| | | |
| --- | --- | --- |
| | Ace Tatang Hidayat, Kindi Farabi, Ida Nur Farida, Kansy Haikal, Nurlelasari Nurlelasari, Desi Harneti Putri Huspa, Rani Maharani, Unang Supratman, Yoshihito Shiono | 7-13 |
| | | |
| --- | --- | --- |
| | Budi Setiawan, Heru Sriwahyuni | 14-21 |
| | | |
| --- | --- | --- |
| | Ismiarni Komala, Supandi Supandi, Muhammad Mirza Hardiansyah | 22-25 |
| | | |
| --- | --- | --- |
| | Tien Setyaingtyas, Kapti Riyani, Dian Windy Dwiasi, Ening Budhi Rahayu | 26-33 |
| | | |
| --- | --- | --- |
| | Isalmi Aziz, Muhammad Nizar Aristya, Hendrawati Hendrawati, Lisa Adhani | 34-41 |
| | | |
| --- | --- | --- |
| | Muhammad Arba, Ruslin Ruslin, Nursan Nursan, Maulidiyah Maulidiyah, Daryono Hadi Tjahjono | 42-51 |
| | | |
| --- | --- | --- |
| | Dede Sukandar, Ibnu Umarudin Umedi, Siti Nurbayti, Tarso Rudiana, Ahmad Fathoni | 52-56 |
| | | |
| --- | --- | --- |
| | Ruswanto Ruswanto, Tifa Nofianti, Richa Mardianingrum, Tresna Lestari | 57-66 |
| | | |
| --- | --- | --- |
| | La Ode Sumarlin, Agik Suprayogi, Min Rahminiwati, Aryani Satyaningtijas | 67-74 |