Jurnal Kimia VALENSI is a biannual and peer review journal published by Study Program of Chemistry, Faculty of Science and Technology UIN Syarif Hidayatullah Jakarta. This journal covering all aspect of chemistry including analytical chemistry, physical chemistry, organic chemistry, inorganic chemistry, biochemistry, natural product chemistry and the other field that related with chemistry. This journal is also dedicated to preserve the transmission of knowledge of science.
Jurnal Kimia Valensi is billingual (Indonesia or English) publishing with frequency 2 issues on May and November. This journal was first published on September 2007 by the name VALeNSI with ISSN: 1978-8193. On May 2015 this journal changed its name to the Jurnal Kimia Valensi with new ISSN: 2460-6065 and available online on Volume 1 No. 1 May 2015 with e-ISSN: 2548-3013.
Jurnal Kimia VALENSI has become a CrossRef Member since May 2015. Therefore, all articles published by Jurnal Kimia VALENSI will have unique DOI number.
This journal has been indexed by DOAJ, Google Scholar, ISJD (LIPI), MORAREF (Ministry of Relegion Affair References), IPI (Index Portal garuda DIKTI) and Indonesia One Search.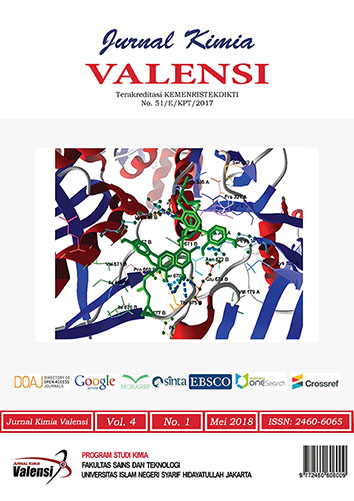 Announcements
No announcements have been published.
Jurnal Kimia VALENSI Volume 3, No. 1, Mei 2017
Available online 2017
Jurnal Penelitian dan Pengembangan Ilmu Kimia
Table of Contents
Jurnal Kimia VALENSI: Jurnal Penelitian dan Pengembangan Ilmu Kimia, p-ISSN: 2460-6065, e-ISSN: 2548-3031

View My Stats