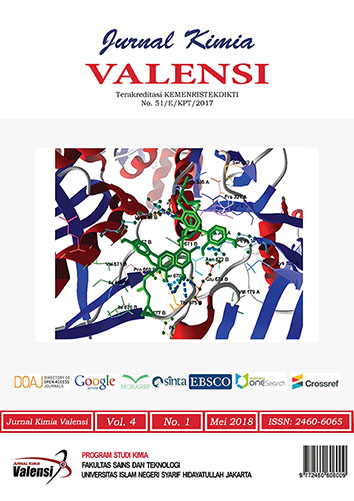 Jurnal Kimia Valensi is a biannual and peer-reviewed open access journal published by Department of Chemistry, Faculty of Science and Technology UIN Syarif Hidayatullah Jakarta. This journal covered all aspects of chemistry including:
Theoretical chemistry 
Computational chemistry (molecular modeling)
Physical and inorganic chemistry
Organic chemistry (natural product and synthesis)
Polymer, composite and nanomaterial chemistry
Biochemistry and biotechnology
Analytical and Environmental Chemistry
Jurnal Kimia VALENSI has become a CrossRef Member since May 2015. Therefore, all articles published by Jurnal Kimia VALENSI will have unique DOI number.
Announcements
No announcements have been published.
Jurnal Kimia VALENSI Volume 5, No. 2, November 2019
Table of Contents
| | | |
| --- | --- | --- |
| | Galuh Widiyarti, Firdayani Firdayani, Muhammad Hanafi, Soleh Kosela, Emil Budianto | 133-142 |
| | | |
| --- | --- | --- |
| | Dewa Gede Katja, Desi Harneti, Tri Mayanti, Nurlelasari Nurlelasari, Rani Maharani, Yoshihito Shiono, Unang Supratman | 143-148 |
| | | |
| --- | --- | --- |
| | Martini Ndamunamu, Irmanida Batubara, Leti Sundawati | 149-158 |
| | | |
| --- | --- | --- |
| | Septiani Septiani, Wahyu Febri Ramadhy, Angie Islammiyati, Winda Rahmalia | 159-168 |
| | | |
| --- | --- | --- |
| | Asep Hadian Hadinata, Engela Evy Ernawati, Agnes Rezky Siahaan | 169-176 |
| | | |
| --- | --- | --- |
| | Muhammad Ihram Basri, Komang Sri Devi Wahyuni, Yolanda Liambo Tamallum, La Ode Ahmad Nur Ramadhan, Abdul Haris Watoni | 177-184 |
| | | |
| --- | --- | --- |
| | Lienda Aliwarga, Herri Susanto, Reynard Reynard, Agnes Veronica Victoria | 185-193 |
| | | |
| --- | --- | --- |
| | Muhammad Iqbal Qeis, Ferdian Rizki Amanda, Desi Listiani, Anthoni B Aritonang, Intan Syahbanu | 194-201 |
| | | |
| --- | --- | --- |
| | Hartati Hartati, Satya Candra Wibawa Sakti, Putri Bintang Dea Firda, Chabibah Saidah | 202-210 |
| | | |
| --- | --- | --- |
| | Nurdeni Nurdeni, Atje Setiawan Abdullah, Budi Nurani Ruchjana, Hardianto A, Anggraeni A, Muthalib A, Husein H Bahti | 211-217 |
| | | |
| --- | --- | --- |
| | Mieke H Satari, Boima Situmeang, Indah Permata Yudha, Dikdik Kurnia | 218-223 |
| | | |
| --- | --- | --- |
| | Lilis Sulistiawaty, Imas Solihat, Arie Pratama Putra | 224-230 |
| | | |
| --- | --- | --- |
| | Ade Yeti Nuryantini, Citra Deliana Dewi Sundari, Halimahtussa'diah Halimahtussa'diah, Bebeh Wahid Nuryadin | 231-135 |
| | | |
| --- | --- | --- |
| | Rizky Achmad Fauzi, Silvester Tursiloadi, Adid Adep Dwiatmoko, Dede Sukandar, Fauzan Aulia, Nino Rinaldi, Sudiyarmanto Sudiyarmanto | 236-241 |
| | | |
| --- | --- | --- |
| | Reni Mulyani, Dikdik Mulyadi, Nopriana Yusuf | 242-247 |