Jurnal Kimia Valensi is a double blind peer-reviewed, open access journal published by Department of Chemistry, Faculty of Science and Technology Syarif Hidayatullah Jakarta State Islamic University. This journal focuses on chemical research, particularly research related to the use of Indonesia's natural resources in the development of chemical, nanomaterials, bioenergy, pharmaceutical and food industries.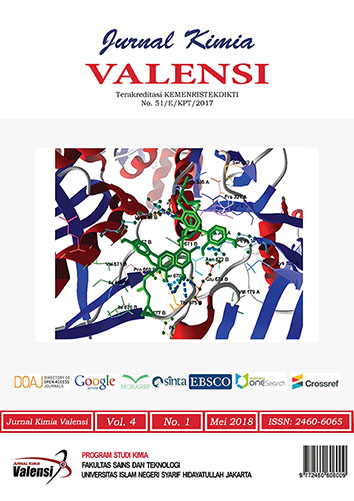 Jurnal Kimia VALENSI has become a CrossRef Member since May 2015. Therefore, all articles published by Jurnal Kimia VALENSI will have unique DOI number.
Announcements
CALL FOR PAPERS

We invite all of authors for next issue submission. A High Quality research paper are invited those are orignal and plagiarism free must be prepared in MS word and similarity check performed by turnitin.
Posted: 2020-09-18
More...
Jurnal Kimia VALENSI Volume 6, No. 2, November 2020
Table of Contents
| | | |
| --- | --- | --- |
| | Tri Mayanti, Nur Insani Amir, Dewa Gede Katja, Sofa Fajriah, Ahmad Darmawan, Unang Supratman, Khlaijah Awang, Yoshihito Shiono | 133-139 |
| | | |
| --- | --- | --- |
| | Valentina Adimurti Kusumaningtyas, Nia Sri Hardianti, Melina Melina, Lia Dewi Juliawaty, Yana Maolana Syah | 140-145 |
| | | |
| --- | --- | --- |
| | Asep Hadian Hadinata, Agnes Rezky Siahaan, Mohamad Ghifary, Dewi Agustina Iryani, Engela Evy Ernawati | 146-155 |
| | | |
| --- | --- | --- |
| | Richa Mardianingrum, Ruswanto Ruswanto, Gina Septiani Agustien, Aas Nuraisah | 156-168 |