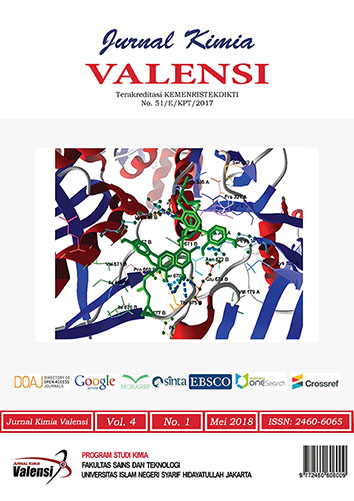 Jurnal Kimia Valensi is a biannual and peer-reviewed open access journal published by Department of Chemistry, Faculty of Science and Technology UIN Syarif Hidayatullah Jakarta. This journal covering all aspect of chemistry including :
theoritical and computational chemistry
physical chemistry and molecular modeling
organic chemistry (natural product and synthesis)
polymer, composite and nanomaterial chemistry
biochemistry and biotechnology
Analytical and Environmental Chemistry
Jurnal Kimia VALENSI has become a CrossRef Member since May 2015. Therefore, all articles published by Jurnal Kimia VALENSI will have unique DOI number.
Announcements
No announcements have been published.
Jurnal Kimia VALENSI Volume 5, No. 1, Mei 2019
Table of Contents
| | | |
| --- | --- | --- |
| | Sahidin Sahidin, Syefira Salsabila, Wahyuni Wahyuni, Fristiohady Adryan, Imran Imran | 1-7 |
| | | |
| --- | --- | --- |
| | Zulenda Zulenda, Uray Amira Naselia, Nico Gustian, Titin Anita Zaharah, Winda Rahmalia | 8-14 |
| | | |
| --- | --- | --- |
| | Mela Faradika, Sri Sugiarti, Purwatiningsih Sugita | 15-22 |
| | | |
| --- | --- | --- |
| | Meri Ayurini, Tony Ekkelenkamp, Jos Paulusse, J.F.J. Engbersen | 23-34 |
| | | |
| --- | --- | --- |
| | Reza Audina Putri, Safni Safni, Diana Vanda Wellia, Upita Septiani, Novesar Jamarun | 35-43 |
| | | |
| --- | --- | --- |
| | Sri Yadial Chalid, Dahrul Syah, Puspo Edi Giriwono, Fransiska Rungkat, Zakaria Zakaria | 44-55 |
| | | |
| --- | --- | --- |
| | Edi Ilimu, Yana Maolana Syah | 56-62 |
| | | |
| --- | --- | --- |
| | Budiawan Budiawan, Nur Hidayati Febriana, Heny Suseno | 63-71 |
| | | |
| --- | --- | --- |
| | Yessi Rahmayani, Zulhadjri Zulhadjri, Syukri Arief | 72-78 |
| | | |
| --- | --- | --- |
| | Isalmi Aziz, Muhammad Akbar Tafdila, Siti Nurbayti, Lisa Adhani, Wahyu Permata | 79-86 |
| | | |
| --- | --- | --- |
| | Rani Maharani Ph.D, Dadan Sumiarsa, Christina Marpaung, Achmad Zainuddin, Ace Tatang Hidayat, Desi Harneti, Nurlelasari Nurlelasari, Unang Supratman | 87-96 |
| | | |
| --- | --- | --- |
| | Tamida Elinda, Wulan Tri Wahyuni, Eti Rohaeti | 97-107 |
| | | |
| --- | --- | --- |
| | Cory Novi, Sartika Sartika, Afifah Nur Shobah | 108-114 |
| | | |
| --- | --- | --- |
| | zusfahair zusfahair, Dian Riana Ningsih, Amin Fatoni, Vika Aprilia Puspitarini | 115-123 |
| | | |
| --- | --- | --- |
| | Yulia Eka Putri, Merida Saputri, Rahmadhini Anwar, Nova Andriani, Rathesa Najeela, Thalabul Ilmi, Diana Vanda Wellia | 124-132 |