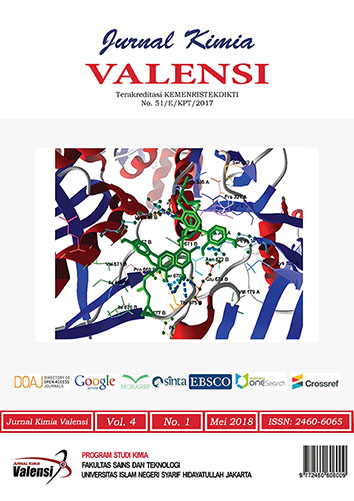 Jurnal Kimia Valensi is a biannual and peer-reviewed open access journal published by Department of Chemistry, Faculty of Science and Technology UIN Syarif Hidayatullah Jakarta. This journal covered all aspects of chemistry including:
Theoretical chemistry 
Computational chemistry (molecular modeling)
Physical and inorganic chemistry
Organic chemistry (natural product and synthesis)
Polymer, composite and nanomaterial chemistry
Biochemistry and biotechnology
Analytical and Environmental Chemistry
Jurnal Kimia VALENSI has become a CrossRef Member since May 2015. Therefore, all articles published by Jurnal Kimia VALENSI will have unique DOI number.
Announcements
CALL FOR PAPERS

We invite all of authors for next issue submission. A High Quality research paper are invited those are orignal and plagiarism free must be prepared in MS word and similarity check performed by turnitin.
Posted: 2020-09-18
More...
Jurnal Kimia VALENSI Volume 6, No. 1, May 2020
Table of Contents
| | | |
| --- | --- | --- |
| | Febiyanto Febiyanto, Uyi Sulaeman | 1-9 |
| | | |
| --- | --- | --- |
| | Popi Asri Kurniatin, Laksmi Ambarsari, Annisa Dhiya Athiyyah Khanza, Inda Setyawati, Djarot Sasongko Hami Seno, Waras Nurcholis | 10-19 |
| | | |
| --- | --- | --- |
| | Ratna Ediati, Tri Ana Mulyati, Amirul Mukminin, Dety Oktavia Sulistiono, Naimatul Khoiroh, Hamzah Fansuri, Didik Prasetyoko | 20-31 |
| | | |
| --- | --- | --- |
| | Hendra Wijaya, Sri Yadial Chalid, Ning Ima Arie Wardayanie, Widyaningsih Widyaningsih, Santi Ariningsih | 32-39 |
| | | |
| --- | --- | --- |
| | Aman Sentosa Panggabean, Wirdhaningsih Wirdhaningsih, Subur P. Pasaribu | 40-46 |
| | | |
| --- | --- | --- |
| | Iman Permana Maksum, D Agus Yusuf Wildan, Khomaini Hasan, Toto Subroto | 47-54 |
| | | |
| --- | --- | --- |
| | Linda J Kusumawardani, Yulian Syahputri, Ani Iryani | 55-61 |
| | | |
| --- | --- | --- |
| | Soja Siti Fatimah, Wiwi Siswaningsih, Ali Kusrijadi, Fikri Aziz Shalahuddin | 62-69 |
| | | |
| --- | --- | --- |
| | Ruswanto Ruswanto, Fajar Setiawan, Nur Rahayuningsih, Richa Mardianingrum, Nur Laili Dwi Hidayati, Elsi Eryanti | 70-81 |
| | | |
| --- | --- | --- |
| | Mohammad Rofik Usman, Azmi Prasasti, Sovia Islamiah, Alfian Nur Firdaus, Ayu Wanda Marita, Syamsiyatul Fajriyah, Eka Fitri Yanti | 82-89 |
| | | |
| --- | --- | --- |
| | Diana Rakhmawaty Eddy, L Ahmad Na'ani, Rustaman Rustaman, Solihudin Solihudin | 90-95 |
| | | |
| --- | --- | --- |
| | Fitria Ramadhani, Emriadi Emriadi, Syukri Syukri | 96-105 |
| | | |
| --- | --- | --- |
| | Sandra Puspita, Diana Rakhmawaty Eddy, Tatang Wahyudi, Euis Julaeha | 106-112 |
| | | |
| --- | --- | --- |
| | Riza Apriani, Tati Herlina, Shabarni Gaffar | 113-119 |
| | | |
| --- | --- | --- |
| | Irmanida Batubara, Muhammad Eka Prastya | 120-134 |