SALAM: Jurnal Sosial Budaya Syar-i (SJSBS) is an open access, and peer-reviewed journal. Our main goal is to disseminate current and original articles from researchers and practitioners on various contemporary social and sharia culture issues. SJSBS is published three times a year. It is nationally accredited by the Ministry of Research, Technology and Higher Education of the Republic of Indonesia (RISTEKDIKTI), No. 30/E/KPT/2019 (November 11, 2019). Submissions are open year-round. Before submitting, please ensure that the manuscript is in accordance with SJSBS's focus and scope and follows our author guidelines & manuscript template.
SALAM Jurnal Sosial Budaya Syar-i has become a CrossRef Member since year 2015. Therefore, all articles published by SALAM will have unique DOI number
P-ISSN: 2356-1459       E-ISSN: 2654-9050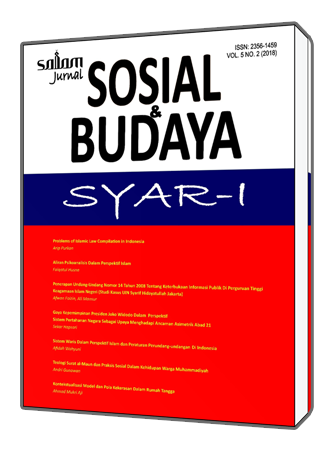 Announcements
No announcements have been published.
Vol 10, No 5 (2023): Article-in-Press
Articles in press are peer reviewed, accepted articles to be published in this publication. When the final article is assigned to volumes/issues of the publication, the article in press version will be removed and the final version will appear in the associated published volumes/issues of the publication. The date an article was first made available online will be carried over. Please be aware that, although articles in press do not have all bibliographic details available yet, they can already be cited using the year of online publication and the DOI, as follows: author(s), article title, Publication (year), DOI.
Table of Contents
Articles
| | | |
| --- | --- | --- |
| | Budi Prastya Nugroho, Siti Ngainnur Rohmah, Mufidah Mufidah | |
| | | |
| --- | --- | --- |
| | Syarifah Gustiawati Mukri | |
| | | |
| --- | --- | --- |
| | Ida Susilowati, Elfarah Reggina Azzahra, Ratna Alfina Nurcahyani | |
| | | |
| --- | --- | --- |
| | Afrinal Afrinal, Nur Rohim Yunus, Fitria Esfandiari | |
| | | |
| --- | --- | --- |
| | Kamilia Nadirah, Mustika Cahyani, Ida Susilowati, Diah Rukmini | |