Journal of Legal Research is a peer-reviewed journal on legal research published quarterly (February, May, August, November) since 2019 by Departemen Legal Studies Faculty of Sharia and Law Universitas Islam Negeri Syarif Hidayatullah Jakarta in cooperation with Center for the Study of Constitution and National Legislation (POSKO-LEGNAS). 
Journal of Legal Research aims primarily to facilitate scholarly and professional discussions over current developments on legal issues in Indonesia as well as to publish innovative legal researches concerning Indonesian laws. The Review, hence, welcomes contributions from international legal scholars and professionals as well as from representatives of courts, executive authorities, and agencies of development cooperation. The Review basically contains any topics concerning Indonesian laws and legal system. Novelty and recency of issues, however, is a priority in publishing.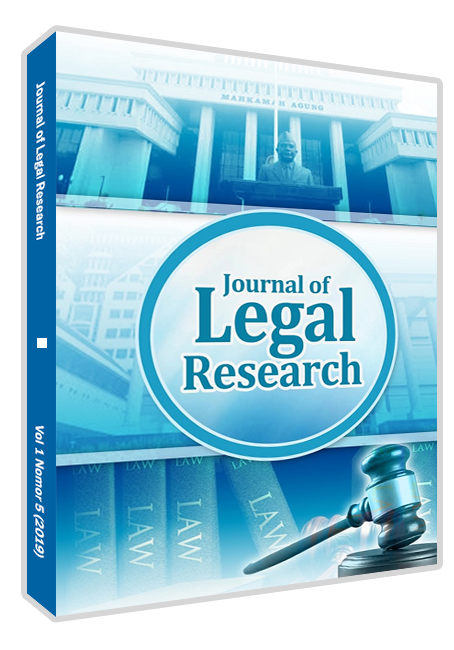 Announcements
No announcements have been published.
Vol 5, No 1 (2023): ARTICLES IN PRESS
Articles in press are peer reviewed, accepted articles to be published in this publication. When the final article is assigned to volumes/issues of the publication, the article in press version will be removed and the final version will appear in the associated published volumes/issues of the publication. The date an article was first made available online will be carried over. Please be aware that, although articles in press do not have all bibliographic details available yet, they can already be cited using the year of online publication and the DOI, as follows: author(s), article title, Publication (year), DOI.
Table of Contents
Articles
| | | |
| --- | --- | --- |
| | Ryanto Sirait, Wira Franciska, Felicitas Sri Marniati | 1-18 |
| | | |
| --- | --- | --- |
| | Nur Rohim Yunus, Suhendar Suhendar, Annissa Rezki | 19-32 |
| | | |
| --- | --- | --- |
| | Khalida Galuh Fauzia, Ramlani Lina Sinaulan, Erny Kencanawati | 4 |
| | | |
| --- | --- | --- |
| | Nanda Vita Reka Amiruddin, Soefyanto Soefyanto, Irfan Khairul Umam | 5 |
| | | |
| --- | --- | --- |
| | Zulfia Sabila, Yuhelson Yuhelson, Felicitas Sri Marniati | x |
| | | |
| --- | --- | --- |
| | Agung Suria Darma, Dhody AR Widjajaatmadja, Basuki Basuki | x |
| | | |
| --- | --- | --- |
| | Septirita Wilman, Joko Sriwidodo, Yurisa Martanti | x |
| | | |
| --- | --- | --- |
| | Yulli Wahyunie Rizal, DU Dhody A.R. Widjajaatmadja, Yusuf Ausiandra | x |
| | | |
| --- | --- | --- |
| | Muhammad Amin Fauzi, Yusuf Ausiandra, Felicitas Sri Marniati | x |