Jurnal INTERAKSI PERADABAN Program Studi Komunikasi Penyiaran Islam terbit dua kali dalam setahun yaitu pada Januari-Juni dan Juli-Desember. Jurnal ini diterbitkan oleh Program Studi Komunikasi Penyiaran Islam (KPI) Fakultas Dakwah dan Ilmu Komunikasi Universitas Islam Negeri (UIN) Syarif Hidayatullah Jakarta. Bidang kajian yang dapat dimuat dalam jurnal ini antara lain:
1. Public Speaking;
2. Broadcasting;
3. Media and Gender Studies;
4. Media Cetak, Radio, Televisi (TV) atau Film;
5. New Media;
6. Integration of Da'wah and Communication Sciences; dan
7. Integration of Intercultural Communication and Da'wah Tsaqafah.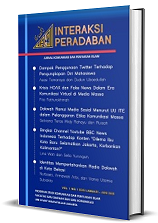 Announcements
No announcements have been published.
Vol 3, No 1 (2023)
Table of Contents
Articles
| | | |
| --- | --- | --- |
| | Mentari Anugrah Imsa, Wina Puspita Sari, Muria Putriana | |
| | | |
| --- | --- | --- |
| | Agung Setyo Budi, Tantan Hermansah, Muhammad Fanshoby | |
| | | |
| --- | --- | --- |
| | Wahidin Saputra, Eka Sugiarti, Keke Widya Utami | |
| | | |
| --- | --- | --- |
| | Ida Kurniawati, Kayyis Fithri Ajhuri, Damayanti Dinda Kinansih | |
| | | |
| --- | --- | --- |
| | Muhammad Gunawan, Risnawati Dewi, Minchatur Robiah | |
| | | |
| --- | --- | --- |
| | Rona Rizkhy Bunga Chasana | |