Country of Publication : Indonesia
Publisher : Department of Informatics, Faculty of Science and Technology
EIC : Khodijah Hulliyah (SCOPUS ID: 49663430700)
ISSN: 2549-7901 (online)
ISSN: 1979-9160 (print)
DOI: 10.15408/jti
Frequency: Biannual (April and Oktober)
Advance Access : Yes
Scope : ICT and Islam, Software Engineering, System Design Methodology, Data mining and Big Data, Human and Computer Interaction, Mobile Computing, Soft Computing, E-Learning, Multimedia and Image Processing, Parallel/Distributed Computing, Artificial Intelligence, Computational Lingustics, Data Comunication, Networking, Computer Engineering, and Cybersecurity.
Type of Journal : Academic/Scholar Journals
Open Access : Yes
National Accredited : Sinta 3
Policy: Peer-Reviewer

Jurnal Teknik Informatika, a peer-reviewed scientific journal, is a significant publication managed by the Department of Informatics within the Faculty of Science and Technology at Universitas Islam Negeri Syarif Hidayatullah. With its biannual releases in April and October, this journal provides a valuable platform for researchers, educators, and students specializing in the field of informatics to contribute their insights and research findings. Furthermore, the journal's association with the Indonesian Association of Higher Education in Informatics and Computing (APTIKOM)  enhances its standing as a recognized and influential platform for advancing knowledge and discourse within the informatics and computing domain in Indonesia. (Click here to download the MoU)

Jurnal Teknik Informatika is indexed in:
•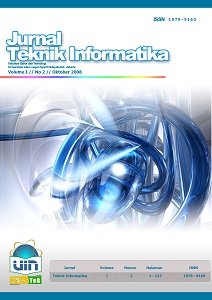 Announcements
No announcements have been published.
Vol 16, No 1 (2023): JURNAL TEKNIK INFORMATIKA
Table of Contents
ARTICLES
| | | |
| --- | --- | --- |
| | Indra Hermawan, Defiana Arnaldy, Prihatin Oktivasari, Dimas Aulia Fachrudin, Risma Nuraini, Nisrina Tsany Sulthanah | 1-14 |
| | | |
| --- | --- | --- |
| | Rinda Cahyana, Ridwan Setiawan, Ihsan Nugraha | 15-24 |
| | | |
| --- | --- | --- |
| | Maria Eryestin Nahak, Darsono Nababan, Yasinta O.L Rema | 25-34 |
| | | |
| --- | --- | --- |
| | Maria Marli Natonis, Lidia Lestari Kitu Manu, Priska Maria Cicilia Amleni, Darsono Nababan, Yoseph P.K Kelen, Willy Sucipto | 35-44 |
| | | |
| --- | --- | --- |
| | Liana Trihardianingsih, Maie Istighosah, Ariel Yonatan Alin, Muhammad Ryandy Ghonim Asgar | 45-57 |
| | | |
| --- | --- | --- |
| | Khairan Marzuki, Anthony Anggrawan, Helna Wardhana, Lalau Ganda Rady Putra, Canggih Wahyu Rinaldi | 58-68 |
| | | |
| --- | --- | --- |
| | Muhammad Fachrurrozi, Anggina Primanita, Rafly Pakomgan, Abdiansah Abdiansah | 69-79 |
| | | |
| --- | --- | --- |
| | Firman Adi Nur Fatin, Mukhamad Nurkamid, Rizkysari Meimaharani, Ahmad Bagus Maskula | 89-99 |
| | | |
| --- | --- | --- |
| | Faris Abdi El Hakim, Agus Prayudi, Kirana Hanifati, Rossi Arisdiawan, Arna Fariza, Hestiasari Rante | 100-111 |