Country of Publication : Indonesia
Publisher : Department of Informatics, Faculty of Science and Technology
EIC : Khodijah Hulliyah (SCOPUS ID: 49663430700)
ISSN: 2549-7901 (online)
ISSN: 1979-9160 (print)
DOI: 10.15408/jti
Frequency: Biannual (April and Oktober)
Advance Access : Yes
Scope : ICT and Islam, Software Engineering, System Design Methodology, Data mining and Big Data, Human and Computer Interaction, Mobile Computing, Soft Computing, E-Learning, Multimedia and Image Processing, Parallel/Distributed Computing, Artificial Intelligence, Computational Lingustics, Data Comunication, Networking, Computer Engineering, and Cybersecurity.
Article Processing Charges : No
Type of Journal : Academic/Scholar Journals
Open Access : Yes
National Accredited : Sinta 3
Policy : Peer-Reviewed
Jurnal Teknik Informatika is a peer-reviewed scientific journal, published by Department of Informatics Faculty of Science and Technology Universitas Islam Negeri Syarif Hidayatullah. Jurnal Teknik Informatika is published in two editions a year, the April and October editions. Contributors to Jurnal Teknik Informatika come from researchers, academics (lecturers and students) in the field of informatics.
Jurnal Teknik Informatika is indexed in:
•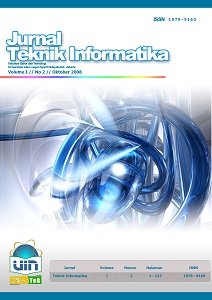 Announcements
No announcements have been published.
Vol 16, No 1 (2023): JURNAL TEKNIK INFORMATIKA
Table of Contents
ARTICLES
| | | |
| --- | --- | --- |
| | Indra Hermawan, Defiana Arnaldy, Prihatin Oktivasari, Dimas Aulia Fachrudin, Risma Nuraini, Nisrina Tsany Sulthanah | 1-14 |
| | | |
| --- | --- | --- |
| | Rinda Cahyana, Ridwan Setiawan, Ihsan Nugraha | 15-24 |
| | | |
| --- | --- | --- |
| | Maria Eryestin Nahak, Darsono Nababan, Yasinta O.L Rema | 25-34 |
| | | |
| --- | --- | --- |
| | Maria Marli Natonis, Lidia Lestari Kitu Manu, Priska Maria Cicilia Amleni, Darsono Nababan, Yoseph P.K Kelen, Willy Sucipto | 35-44 |
| | | |
| --- | --- | --- |
| | Liana Trihardianingsih, Maie Istighosah, Ariel Yonatan Alin, Muhammad Ryandy Ghonim Asgar | 45-57 |
| | | |
| --- | --- | --- |
| | Khairan Marzuki, Anthony Anggrawan, Helna Wardhana, Lalau Ganda Rady Putra, Canggih Wahyu Rinaldi | 58-68 |
| | | |
| --- | --- | --- |
| | Muhammad Fachrurrozi, Anggina Primanita, Rafly Pakomgan, Abdiansah Abdiansah | 69-79 |
| | | |
| --- | --- | --- |
| | Firman Adi Nur Fatin, Mukhamad Nurkamid, Rizkysari Meimaharani, Ahmad Bagus Maskula | 89-99 |
| | | |
| --- | --- | --- |
| | Faris Abdi El Hakim, Agus Prayudi, Kirana Hanifati, Rossi Arisdiawan, Arna Fariza, Hestiasari Rante | 100-111 |