DAKWAH: Jurnal Kajian Dakwah dan Kemasyarakatan is an academic journal published twice annually  by Dakwah and Communication Faculty of UIN Syarif Hidayatullah Jakarta in cooperation with Perkumpulan Pengelola Jurnal Ilmu Dakwah (PPJID). This journal publishes original researches in multi concepts, theories, perspectives, paradigms and methodologies on da'wah studies related to social and cultural context in Indonesia.
Country of Publication: Indonesia
Partnership: Perkumpulan Pengelola Jurnal Ilmu Dakwah (PPJID)
Format: Print & Online
DOI: 10.15408/dakwah
Frequency: Biannual
Publication Dates: 
Advance Access: Yes
Scope: Communication and Islamic Broadcasting; Islamic Counseling; Da'wah Management; Islamic Society Development; Social Welfare; Journalism
Article Processing Charges: No
Types of Journal: Academic/Scholarly Journals
Open Access: Yes
Indexed & Abstracted:Yes
Policy:Peer-reviewed
ReviewTime: Eight Weeks Approximately
Contact & Submission email: jurnal.dakwah@uinjkt.ac.id
Alternate email: tasman@uinjkt.ac.id, cecep.romli@uinjkt.ac.id
Copyright:CC-BY-SA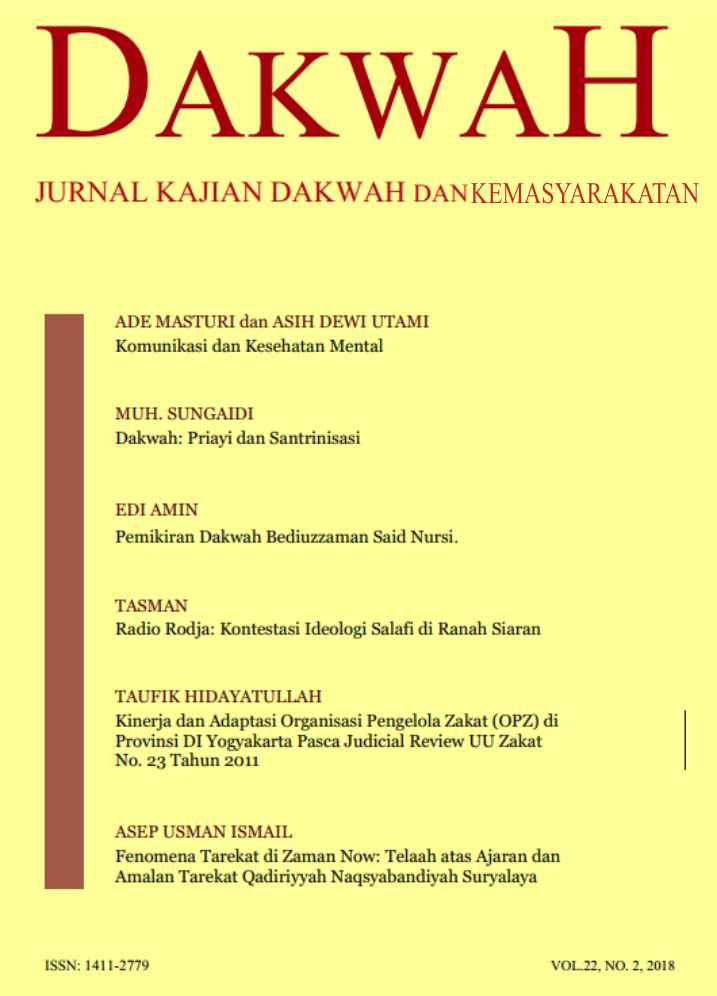 Announcements
No announcements have been published.
Vol 26, No 2 (2022): Dakwah: Jurnal Dakwah dan Kemasyarakatan
Table of Contents
Articles
| | | |
| --- | --- | --- |
| | Ade Masturi, Asih Dewi Utami | 121-145 |
| | | |
| --- | --- | --- |
| | tasman tasman, Aisyah Aisyah | 146-164 |
| | | |
| --- | --- | --- |
| | R. Cecep Romli, Rd. Ima Mariam Parida | 165-193 |
| | | |
| --- | --- | --- |
| | M Lutfi, Rina Rahmawati | 194-206 |
| | | |
| --- | --- | --- |
| | Deden Mauli Darajat, Cinta Rahmi | 207-220 |