Jurnal Cita Hukum is an open access and peer-reviewed journal that aims to offer legal studies, government policies, law and society, laws and regulations, and legal issues that have developed in various countries. This study is not limited to various fields of criminal law, civil law, constitutional law, state administrative law, the development of Islamic law, international law, humanitarian law, and other fields regarding contemporary issues in the field of law. 
Jurnal Cita Hukum peer-reviewed journal on Legal Studies published by Faculty of Sharia and Law, Universitas Islam Negeri Syarif Hidayatullah Jakarta in Associate with Center for Study of Indonesian Constitution and Legislation (POSKO-LEGNAS).
Jurnal Cita Hukum has been indexed at Web of Science (WOS) or Emerging Source Citation Index (ESCI) Clarivate Analytics, DOAJ, EBSCO, DIMENSION and SINTA 2 (Accredited by the Directorate General of Research And Development of the Ministry of Research, Technology, and Higher Education of the Republic of Indonesia Number 30 / E / KPT / 2019) and become a Crossref Member since year 2015.
Therefore, all articles published by Jurnal Cita Hukum will have unique DOI number.
P-ISSN 2356-1440     E-ISSN 2502-230X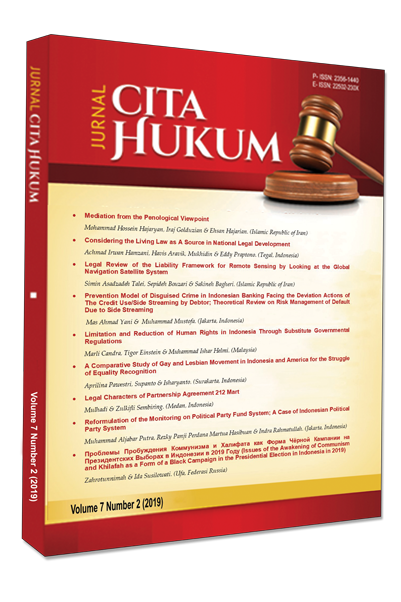 Announcements
No announcements have been published.