Jurnal Cita Hukum is an international peer-reviewed journal on Legal Studies published by Faculty of Sharia and Law, Universitas Islam Negeri Syarif Hidayatullah Jakarta in Associate with Center for Study of Indonesian Constitution and Legislation (POSKO-LEGNAS).
This journal specializes in legal studies and try to present various results of the latest and high-quality scientific research which is issued three time a year in April, August and December. As an International Journal, all articles must be written in English or Russian, because they will be read online by millions of readers, both speakers of English and Russian.
Jurnal Cita Hukum has been indexed at Web of Science (WOS) or Emerging Source Citation Index (ESCI) Clarivate Analytics, DOAJ, EBSCO, DIMENSION and SINTA 2 (Accredited by the Directorate General of Research And Development of the Ministry of Research, Technology, and Higher Education of the Republic of Indonesia Number 30 / E / KPT / 2019) and become a Crossref Member since year 2015.
Therefore, all articles published by Jurnal Cita Hukum will have unique DOI number.
P-ISSN 2356-1440     E-ISSN 2502-230X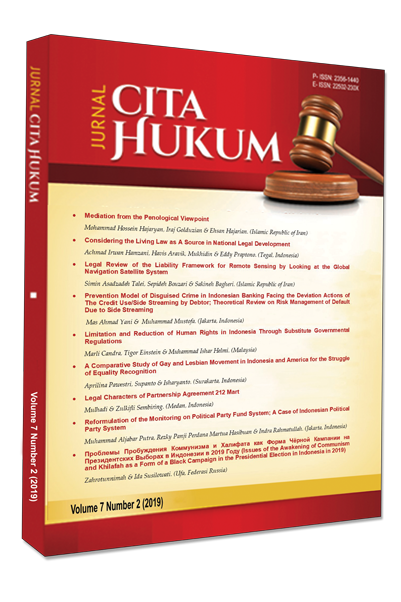 Announcements
No announcements have been published.