The Avicenna Medical Journal, the official journal of Faculty of Medicine Universitas Islam Negeri Syarif Hidayatullah Jakarta, presents multidisciplinary scientific papers which describe innovative research spanning the entire spectrum of medical aspects both basic science and clinical aspects. It addresses scientists and researchers to publish novel research that is mechanism-based, hypothesis-driven, and focus on significant issues include.
The Avicenna had changed the template of manuscript since volume 2 No 2 Year 2021 to improve the quality of Journal.
Appearing 2 times in a year under peer review, The Avicenna Medical Journal actively participates in solving the medical problem and its related aspects.
Country of Publication: Indonesia
Publisher: Faculty of Medicine, UIN Syarif Hidayatullah Jakarta
Format: Print and Online
Doi : 10.15408/avicenna
Frequency : Twice
Scope: Basic research and biomedical approaches to disease; clinical studies; social and other aspects in an integrated focus on solving medical problems; Islamic medical research; medical education research; and genetic and biomolecular research
Article Processing Charges: Free of Charges
Types of Journal: Academic/Scholarly Journals
Languange: English
Open Access: Yes
Indexed & Abstracted: Yes
Policy: Peer-reviewed
ReviewTime: Eight Weeks Approximately
Licensed under: CC-BY-NC
Contact & Submission e-mail: amedj@uinjkt.ac.id
Visitor: View My Stats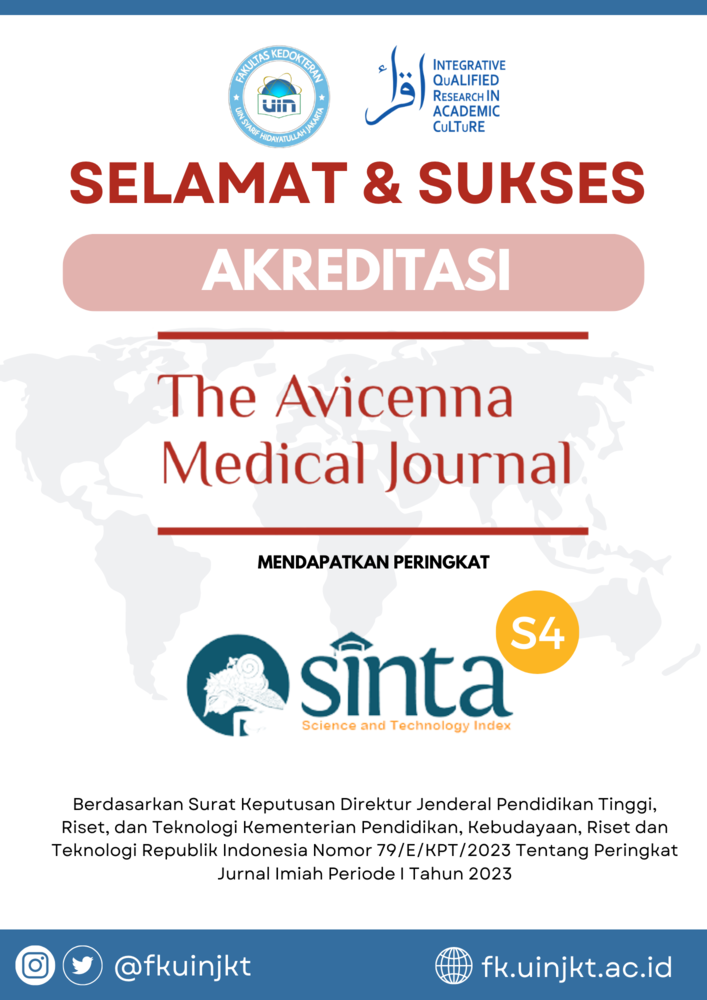 Announcements
No announcements have been published.
Vol 4, No 1 (2023)
Available online since June, 2023
Author's Country: Indonesia, Saudi Arabia
Table of Contents
Articles
| | | |
| --- | --- | --- |
| | Flori R. Sari, Saiful Anwar, Risahmawati Risahmawati, Marita Fadhilah, Fika Ekayanti | 1-6 |
| | | |
| --- | --- | --- |
| | Alfani Naqiya Shidqiyah, Fika Ekayanti, Prasetiyawan Prasetiyawan, Marita Fadhilah, Adhi Wibowo Nurhidayat | 7-12 |
| | | |
| --- | --- | --- |
| | Arief Riadi Arifin, Faisal Yunus, Satria Patrama, Muhammad Ryan Adi Putra, Olivia Geraldine Roxanne | 19-24 |
| | | |
| --- | --- | --- |
| | Nida Farida, Nurmila Sari, Ghina Fitria Nugraha | 25-30 |
| | | |
| --- | --- | --- |
| | Abdullah S. Mirza, Yazeed Alsulaiman, Metab A. Alkubeyyer | 31-36 |