AKUNTABILITAS: JURNAL ILMU AKUNTANSI (ISSN 1979-858X; E-ISSN 2461-1190) is an Indonesian Accounting Journal published by the Department of Accounting, Faculty of Economic and Business, Syarif Hidayatullah State Islamic University. It specializes in Studies of Financial Accounting, Management Accounting, Sharia Accounting, Auditing, Taxation in particular, and Accounting Studies in general, and is intended to communicate original researches and current issues on the subject. This journal warmly welcomes contributions from scholars of related disciplines.
Akuntabilitas: Jurnal Ilmu Akuntansi accredited "4th Grade" by Ministry of Research, Tehnology, and Higher Education No. 14/E/KPT/2019 (Valid from Vol. 11(2), 2018 until Vol. 15(1), 2023)
Akuntabilitas has become a CrossRef Member. Therefore, all articles published by Akuntabilitas will have unique DOI number.
Akuntabilitas: Jurnal Ilmu Akuntansi is indexed in CrossRef, Indonesia One Search-National Library of Indonesia, Google Scholar, Indonesia Scientific Journal Database, Portal Garuda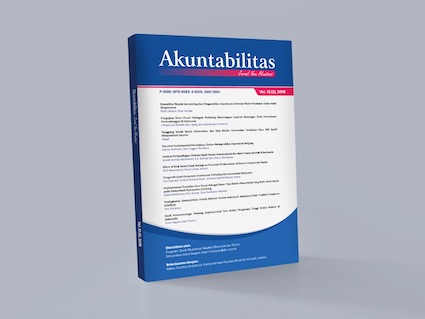 Announcements
No announcements have been published.
Vol 15, No 2 (2022)
Full Issue
| | |
| --- | --- |
| View or download the full issue | PDF |
Table of Contents
Articles
| | | |
| --- | --- | --- |
| | Yanto Darmawan, Dwi Haryono Wiratno, Sururi Sururi, Hasan Subagyo | 137-154 |
| | | |
| --- | --- | --- |
| | Pamungkas Faizal Randi, Sekar Akrom Faradiza | 155-168 |
| | | |
| --- | --- | --- |
| | Andrew Reinhard Marulak Togatorop, Annisa Indira Larashati Bahari | 169-176 |
| | | |
| --- | --- | --- |
| | Anita De Grave, Syahril Hasan | 177-190 |
| | | |
| --- | --- | --- |
| | Veronika Cindy Mey Tika Sari, Puji Nurhayati, Tiya Dzuralda | 191-202 |
| | | |
| --- | --- | --- |
| | Irma Suryani, Muhammad Syahrudin, Frans Yohanes | 203-214 |
| | | |
| --- | --- | --- |
| | Etty Murwaningsari, Sistya Rachmawati | 215-228 |
| | | |
| --- | --- | --- |
| | Risa Wahyuni EDT, Hafizia Seriska | 229-240 |
| | | |
| --- | --- | --- |
| | Nur Kholis, Lintang Kurniawati | 241-250 |
| | | |
| --- | --- | --- |
| | Sainada Oktoby Sherly Abdillah, Fitri Yani Jalil | 251-262 |