Esensi: Jurnal Bisnis dan Manajemen. The Journal published by Faculty of Economic and Business Syarif Hidayatullah State Islamic University of Jakarta. This journal focused on Accounting, Business, Economics, Finance and Management studies. The Journal is published twice a year. The aim of the journal is to disseminate the accounting, business, economics, finance, and management researches done by researchers both from Indonesian and overseas.
Esensi has become a CrossRef Member since year 2015. Therefore, all articles published by Esensi will have unique DOI number.
Esensi: Jurnal Bisnis dan Manajemen is indexed by Sinta (S3), Directory of Open Access Journal (DOAJ), CrossRef, Google Scholar, Portal Garuda, Moraref, Sinta, Indonesia One Search, ISJD LIPI, etc.
Citedness in Scopus: 5
Citations in Google-Scholar : 220
h-index   : 7
i-10 index : 5
ISSN: 2087-2038 (Print)
ISSN: 2461-1182 (Online)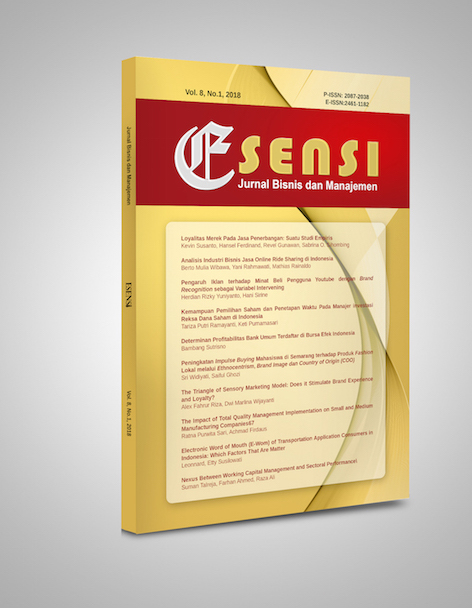 Vol 8, No 2 (2018)
Table of Contents
Articles
| | | |
| --- | --- | --- |
| | Ajeng Larasati, Sri Rahayu Hijrah Hati, Anya Safira | 105-114 |
| | | |
| --- | --- | --- |
| | Faizal Ridwan Zamzany, Edi Setiawan, Elmy Nur Azizah | 133-140 |
| | | |
| --- | --- | --- |
| | Nanik Lestari, H. Hidayatullah | 141-150 |
| | | |
| --- | --- | --- |
| | Slamet Heri Winarno, Bryan Givan, Y. Yudhistira | 151-162 |
| | | |
| --- | --- | --- |
| | Victoria Lelu Sabon, Mochamad Tommy Putra Perdana, Permata Citra Stella Koropit, Wajong Christian David Pierre | 163-176 |
| | | |
| --- | --- | --- |
| | Yudhistira Ardana, W Wulandari | 177-186 |
| | | |
| --- | --- | --- |
| | Zuwesty Eka Putri | 187-200 |
| | | |
| --- | --- | --- |
| | Imran Umer Chhapra, Raja Rehan, Abdul Rafay | 201-210 |
| | | |
| --- | --- | --- |
| | Joseph David, Musa Clement Lawal | 211-222 |