JIPL (Jurnal Inovasi Pertambangan dan Lingkungan)  is a double-blind peer-reviewed, open-access journal published by Department Mining Engineering, Faculty of Science and Technology Syarif Hidayatullah Jakarta State Islamic University. This journal focuses:
1. Mining Engineering and Technology
2. Mineral and Coal Mining
3. Mineral and Coal Processing
4. Mining Environment
5. Mineral Economic
6. Geology
JIPL is a biannual journal published in June and December.
Therefore, all articles published by JIPL will have unique DOI numbers.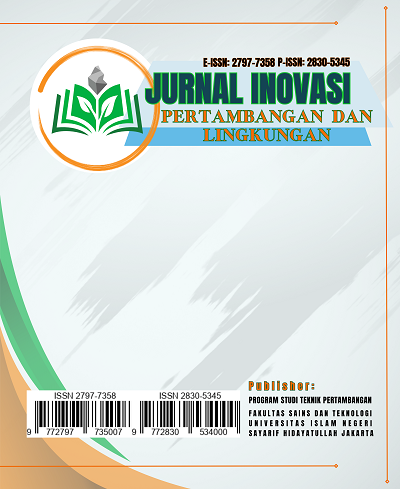 Announcements
No announcements have been published.
Vol 1, No 1 (2021): JIPL (Jurnal Inovasi Pertambangan dan Lingkungan)
Table of Contents
Articles
| | | |
| --- | --- | --- |
| | Masjon Parhusip, Rika Ernawati, Tedy Agung Cahyadi | |
| | | |
| --- | --- | --- |
| | Mycelia Paradise, Edy Nursanto, Nur Khamim | |
| | | |
| --- | --- | --- |
| | Ahmad Erlangga Adji, M Bambang Soegeng, A Silvan Erusani | |
| | | |
| --- | --- | --- |
| | Putra Desandra Wicaksana, A Silvan Erusani, Milawarma Milawarma | |
| | | |
| --- | --- | --- |
| | Jeremia Christopher Herbert Siregar, Tedy Agung Cahyadi, Winda Winda, Suyono Suyono, Rika Ernawati, Achmad Sadikin | |