Al-IQTISHAD : Jurnal Ilmu Ekonomi Syariah (Journal of Islamic Economics). The Journal is published by Faculty of Shariah and Law UIN Syarif Hidayatullah Jakarta in cooperation with The Indonesian Association of Islamic Economist. This journal focused on Islamic Economics and Finance studies. The Journal is published twice a year on January and July. The aim of the journal is to disseminate the Islamic economics and finance researches done by researchers both from Indonesian and overseas.
The journal is accredited by the Directorate General of Higher Education Ministry of National Education and Culture Republic of Indonesia No. 040/P/2014 Valid until 2018
Al-IQTISHAD has become a CrossRef Member since year 2015. Therefore, all articles published by Al-IQTISHAD will have unique DOI number.
Al-Iqtishad is indexed by Directory of Open Access Journal (DOAJ), CrossRef, Goggle Scholar, Portal Garuda, Moraref, Indonesia One Seacrh, ISJD LIPI, etc.
Citation     : 28
h-index     : 2
i-10 index  : 0
P-ISSN: 2087-135X
E-ISSN: 2407- 8654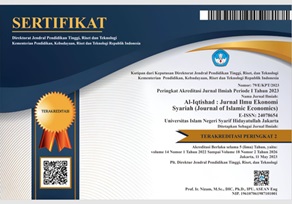 Announcements
No announcements have been published.
Vol 8, No 2: July 2016
Table of Contents
Articles
This work is licensed under a
Creative Commons Attribution 3.0 License
.

This work is licensed under CC BY-SA
© All rights reserved 2015.